NEWS
At Brooks Jeffrey Marketing, Inc., we strive to provide our clients with up-to-date knowledge of superior communication, marketing and digital services, tips, and products.
Our staff members follow cutting-edge technology and techniques. Brooks Jeffrey team members attend workshops and seminars designed to increase their fluency with the tools to get their jobs done – and done well.
01/01/2015 <<Back
Brooks Jeffrey Wins Top International Award for VisitHardyArkansas.com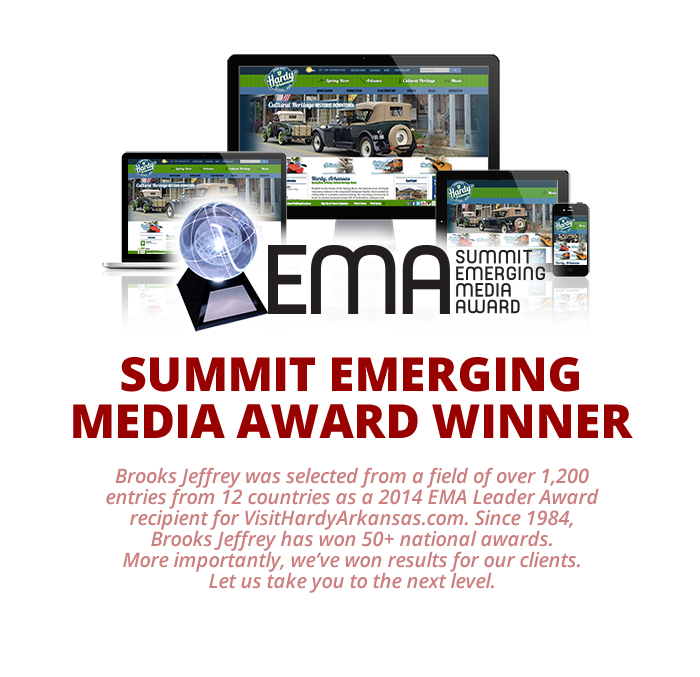 Brooks Jeffrey Marketing, Inc. won the Leader Award in the 2014 Summit Emerging Media Award competition for design and development of the Hardy Advertising & Promotion Commission
The Summit Emerging Media Award (Summit EMA) recognizes and celebrates creativity, innovation, and those pushing the bounds of creative excellence in all forms of emerging media. This SIA organization stands apart by offering a true competitive environment where entries are judged alongside those of their peers.
"Brooks Jeffrey is pleased to be selected from a field of over 1,200 entries from 12 countries to receive an international award for design and development of the Hardy Advertising & Promotion Commission website. We are honored to add VisitHardyArkansas.com to the list of award-winning websites developed, hosted, and maintained by Brooks Jeffrey," states Jodie Elizabeth Jeffrey, Co-Owner of Brooks Jeffrey Marketing, Inc.
The Summit International Awards (SIA) organization is dedicated to furthering creative excellence in the communications industry. It administers three distinguished award competitions throughout the year with the goal of raising the awareness of companies and individuals who have the creative and marketing talent to go beyond the ordinary.
"Those involved in today's emerging media technologies are the leaders who are establishing tomorrow's avenues of advertising communications," said Jocelyn Luciano, Executive Director for the Summit International Awards (SIA). "Most communication professionals recognize that established avenues of communication can be reliable and safe; however, audiences are becoming increasingly fragmented and difficult to engage, inform, and affect. Developing, applying, and combining emerging media with creative messaging and market awareness is challenging. Achieving this synthesis is what makes earning a Summit EMA a significant achievement."
Founded in 1984, Brooks Jeffrey is a full-service marketing and communications firm located at 19 Medical Plaza in Mountain Home, Arkansas, serving clients throughout the United States. For information on the advertising, public relations, website and marketing services provided by Brooks Jeffrey, visit BrooksJeffrey.com or phone (800) 506-8064.
Media Kit