NEWS
At Brooks Jeffrey Marketing, Inc., we strive to provide our clients with up-to-date knowledge of superior communication, marketing and digital services, tips, and products.
Our staff members follow cutting-edge technology and techniques. Brooks Jeffrey team members attend workshops and seminars designed to increase their fluency with the tools to get their jobs done – and done well.
07/10/2017 <<Back
Thank You SERC-NAHRO 2017 from Brooks Jeffrey Marketing.
Proud producers of Housing Authority Websites! Let us put a website to work for your PHA. Women-Owned, DUNS & CCR Registered.
FREE with purchase of any HA Website or HA Marketing Services: Logo & One Set of 1,000 Business Cards OR Website Data Population.
Contact us today to get started 800.506.8064 or email: Jodie Elizabeth & Angie.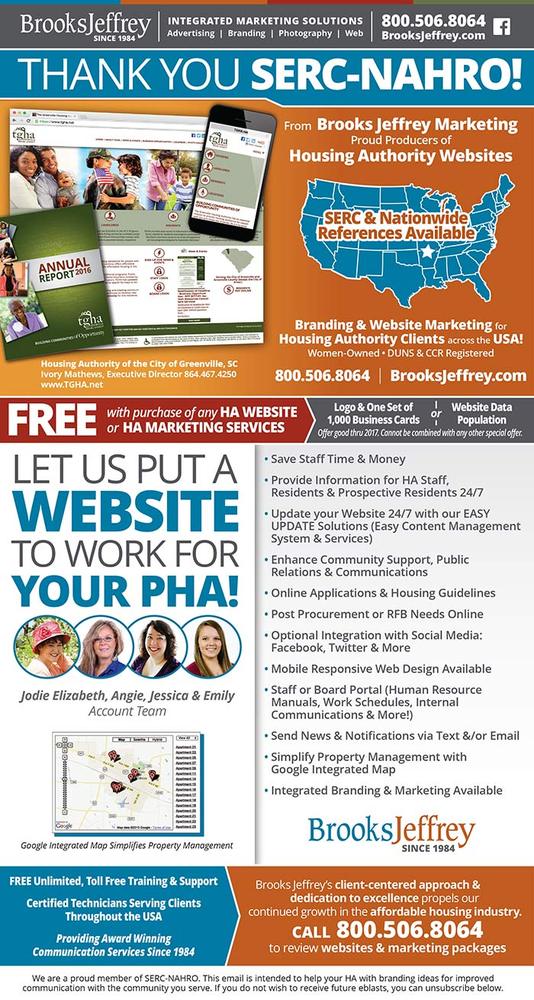 Media Kit