NEWS
At Brooks Jeffrey Marketing, Inc., we strive to provide our clients with up-to-date knowledge of superior communication, marketing and digital services, tips, and products.
Our staff members follow cutting-edge technology and techniques. Brooks Jeffrey team members attend workshops and seminars designed to increase their fluency with the tools to get their jobs done – and done well.
08/25/2015 <<Back
Brooks Jeffrey Places in Top International Award for Arkansas Rural & Volunteer Firefighters Association!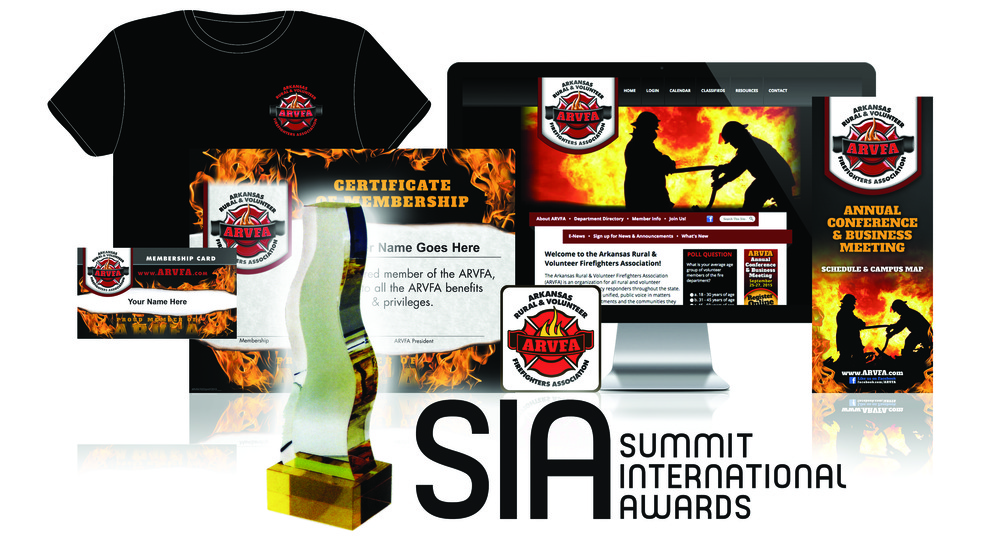 Brooks Jeffrey Marketing Places in Top International Award – 2015 Summit Creative Award
Brooks Jeffrey Marketing, Inc. is the Bronze Winner of the 2015 Summit Creative Award for the complete branding package of Arkansas Rural & Volunteer Firefighters Association (ARVFA). Pictured above are a few branding items that Brooks Jeffrey Marketing created for ARVFA.
The Summit Creative Award (SCA) aims to recognize small and medium-size agencies worldwide that go beyond the ordinary with their creative and marketing talents. The SCA Judges search for and identify innovative concepts, strong executions, and the ability to persuade. This award stands apart by offering a true competitive environment where entries are judged alongside those of their peers.
ARVFA's website, developed and hosted by Brooks Jeffrey, features a user-friendly design and enhanced functionality, including a convenient client Content Management Systems (CMS) that allows the volunteers at the Arkansas Rural & Volunteer Firefighters Association to easily add, edit and delete content on the site as often as needed. Brooks Jeffrey assists ARVFA with website updates, adding classifieds, calendar events, and other information provided by the volunteers of the organization.
"Brooks Jeffrey is pleased to be chosen, out of more than 5,000 entries from 23 countries, as the Bronze Winner of the Summit Creative Award in the 2015 International Competition for the complete branding package of Arkansas Rural & Volunteer Firefighters Association. We are honored to add ARVFA to the list of award-winning brands designed and developed by Brooks Jeffrey," states Jodie Elizabeth Jeffrey, Co-Owner of Brooks Jeffrey Marketing, Inc.
The Summit International Awards (SIA) organization, founded in 1994, is dedicated to furthering creative excellence in the communications industry. It administers three distinguished award competitions throughout the year (the Summit Creative Award, Summit Marketing Effectiveness Award, and Summit Emerging Media Award) with the goal of raising the awareness of companies and individuals who have the creative and marketing talent to go beyond the ordinary.
"Winning a Summit Creative Award is a significant accomplishment in one's career. With vetted judges, tough judging criteria, two-phase blind judging processes, and strict bylaws limiting winners, only deserving entries receive recognition," said Jocelyn Luciano, Executive Director for the Summit International Awards. "The creative work this year was outstanding. Watching the judges debate the details of individual entries in the run-off for the tops spots was inspiring."
Founded in 1984, Brooks Jeffrey is a full-service marketing and communications firm located at 19 Medical Plaza in Mountain Home, Arkansas, serving clients throughout the United States. For information on the advertising, public relations, website and marketing services provided by Brooks Jeffrey, visit BrooksJeffrey.com or phone (800) 506-8064.
Click here to view Brooks Jeffrey's profile on the Summit International Awards website.
Media Kit