NEWS
At Brooks Jeffrey Marketing, Inc., we strive to provide our clients with up-to-date knowledge of superior communication, marketing and digital services, tips, and products.
Our staff members follow cutting-edge technology and techniques. Brooks Jeffrey team members attend workshops and seminars designed to increase their fluency with the tools to get their jobs done – and done well.
10/06/2017 <<Back
Thank You GAHRA from Brooks Jeffrey Marketing, Inc.
Proud producers of Housing Authority Websites! Let us put a website to work for your PHA.
FREE with purchase of any HA Website or HA Marketing Services:
Logo & One Set of 1,000 Business Cards OR Website Data Population. Offer good thru 2017. Cannot be combined with any other special offer.
Contact us today to get started 800.506.8064 or email Jodie Elizabeth.
Visit us online: www.BrooksJeffrey.com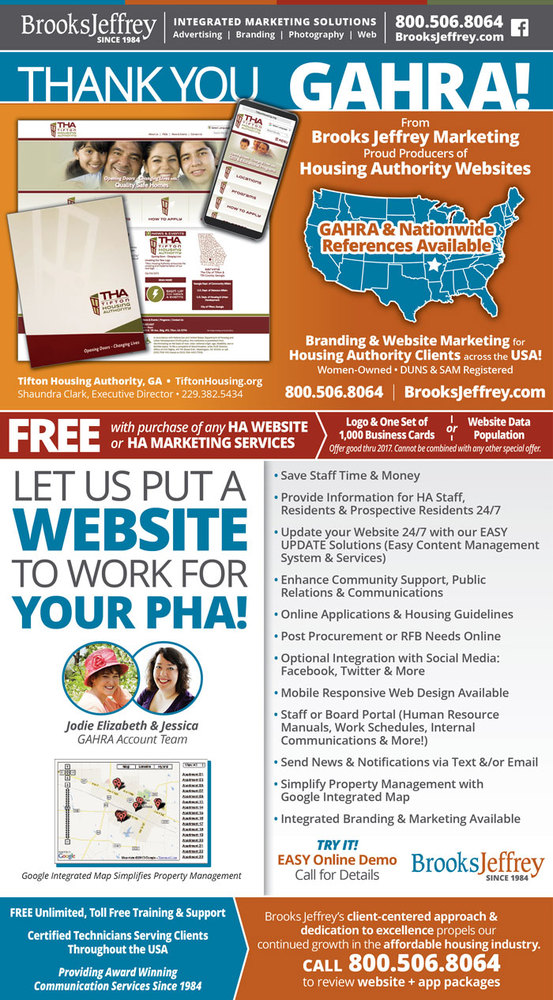 Media Kit